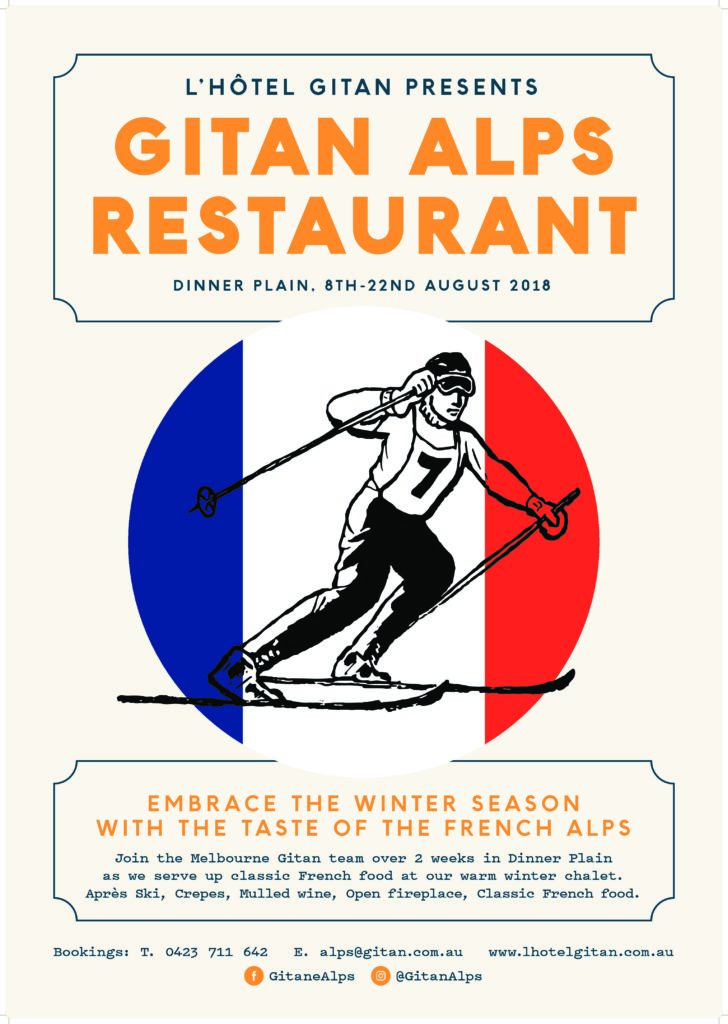 Gitan Alps Restaurant 8th-22nd August
The Reymond family restaurant, LeHotel Gitan will takeover Dinner Plain's Alphutte restaurant with Gitan Alps, a European inspired mountain restaurant.
Promising to bring a touch of Chamonix to Dinner Plain, the team behind the Melbourne gastropub will serve traditional French winter classics including Croque Monsieurs, Soupe a l'onion, Coq au vin, and Boeuf Bourguignon, with freshly baked bread from Noisette and French butter, for diners settling in for a well-earned heart warming lunch or cosy dinner.
Raclette will be a feature, from the original machine of Kathy and Jacques Reymond, purchased during their time working in the Swiss Alps, served with steaming hot potatoes, charcuterie and cornichons. Dessert will delight with alpine staples including fresh Crêpes Suzette, Profiteroles, and rich Godiva hot chocolate.
Embrace the winter season with this taste of the French Alps in the heart of Dinner Plain.
Gitan Alps will be open for dinner every night from 8 – 22 August 2018, and for lunch on Fridays,
Saturdays and Sundays. See you in the snow or follow the tracks at @GitanAlps.
Bookings: 0423 711 642 or [email protected]