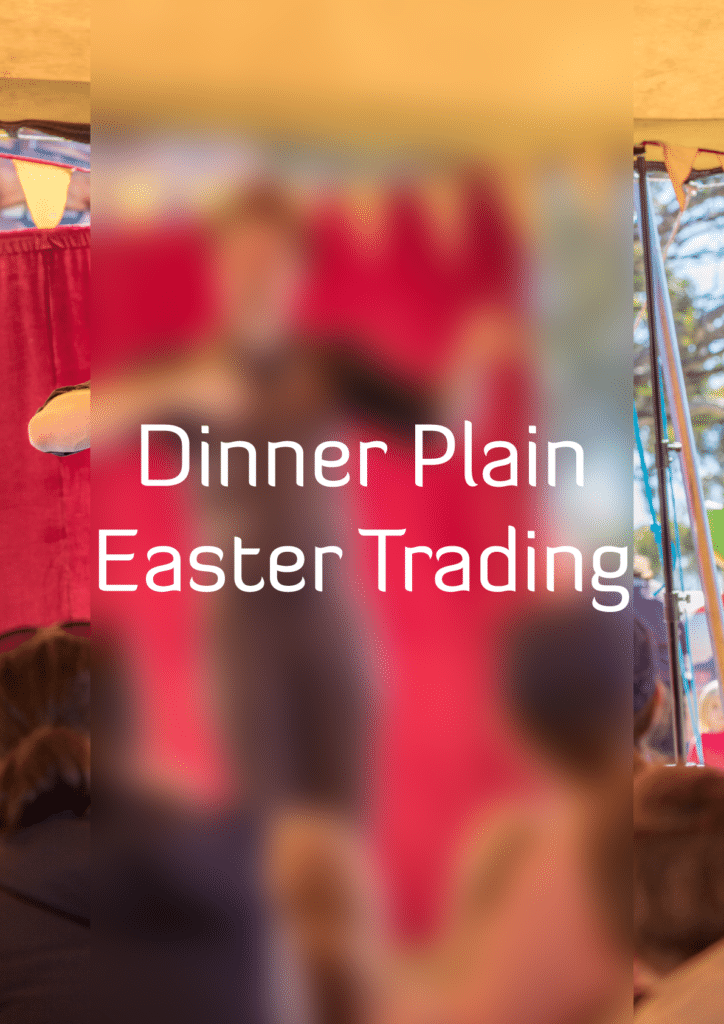 ­
Blizzard Brewery
From Noon Friday - Monday. 3rd Birthday Celebrations Saturday from noon, beer garden, food stalls, lawn games, 10 beers on tap and Ricky Wood 2pm.
Dinner Plain Hotel
Open
Lunch & Dinner
DP Riders Bike Hire
MTB hire [email protected]
Hotel High Plains
Easter - Cobungra Burger Bar Saturday - Monday 12-2pm, Dinner 6-8.30pm. Bar open till 1am. Live music 8pm Saturday Mark Hogg and 8pm Sunday Brent Cook
Hoys Ski Shop
Good Friday - Easter Monday 9am - 3pm. Big Sales.
Mountain Kitchen
Good Friday 8am - 3pm,  Saturday & Sunday 7am - 4pm,  Monday 8am - 4pm.
Ramada
Open 7am – 10.30pm daily
Lunch 12-3pm & Dinner 6-9pm
The Alpine Life
Good Friday - Easter Monday 9am-3pm. Up to 80% off Clothing and Outerwear.
Onsen Retreat & Spa
Open from 6th - 26th April. Bathing, massage, treatments.
Dinner Plain Accommodation
Open 9am - 4pm, Sunday 10am - 4pm.
www.dinnerplain.com
Karl Gray Gallery
Open Good Friday 1-5pm, Easter Saturday Photos & Bubbles Easter Saturday 4-6pm, Easter Sunday 10am - 2pm.